Why h!ndu men fail to persuade h!ndu girls
Why h!ndu men are failing to persuade h!ndu girls not to go to muslim men. We see the whole agenda of love j!had has failed completely no one buys it expect a handful on the contrary we are seeing a trend where more and more hindu girls are falling for muslim men. I personally believe that love j!had agenda has in fact backfired it has led to more hindu girls falling for muslim men as it puts muslim men in a dominant position in the category of 'alpha males' who are successful with hindu females also it leads to muslim guys befriending more hindu girls as a form of resistance. Hindu girls are fucking muslim men on a massive scale. Every second musalman guy  I come across has a hindu gf whom he is fucking. According to my experience I can undoubtedly say that 1 in 6 school or college going muslim guy has a hindu girlfriend (vice versa doesn't happen on such a massive scale), which means lakhs of hindu girls are enjoying muslim lunds. I have not even taken into account a bachelor working class below 30 years old muslim male or a married musalman guy having an affair with a hindu woman.
Obviously many hindu guys see their girls going to musalman men and many of them indirectly or directly try to persuade the girls not to go to musalman men or tell them to be aware of them. One thing some of them do is use internet and post such images on lovej!had.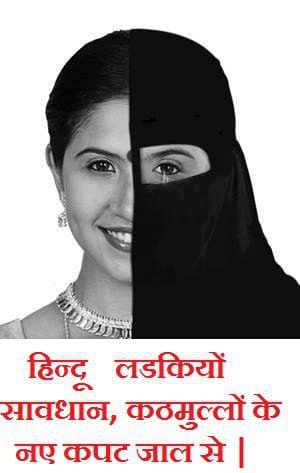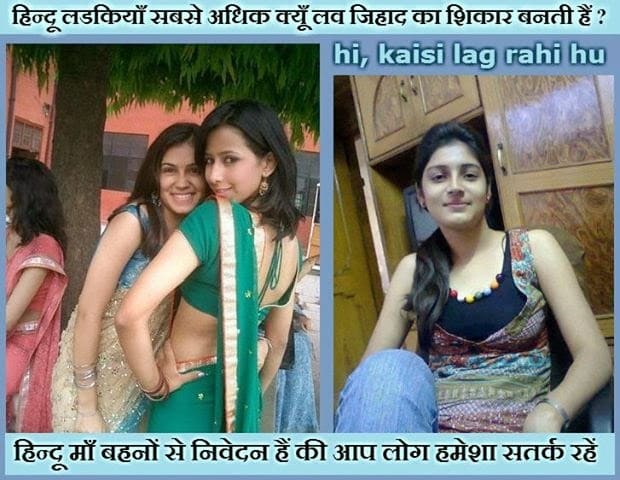 Why does it not work. It doesn't work because Hindu men do not understand their women, musalmans understand women better they don't complain that hindus are luring our women by doing so they would become meek beta males which they are not while many hindu guys do it I think they get some kind of kinky pleasure by saying that muslims are luring, fucking, converting our women. An average Hindu female generally has 'resistive' behavior when it comes to hindu males and culture. Better slut of musalman men than a slave of hindu patriarch. They like to cross the Lakshman Rekha.
On the other hand musalman women I have generally seen are more loyal to the cause. What usually happens lets say you are her brother she would support you in front of you but behind the close door she would finger her pussy thinking about beefy musalman lunds fucking her wild.
She would also think that you are just an insecure impotent ass hole.
She would then think its her choice whom she wants to fuck.
She would then grab a musalman lund in her college or at her work place and feel freer.
Some of them even have a hidden desire to experience holy circumcised 'katva' muslim dick.
Some prefer hard thunderous muslim cut lunds than a limpy hindu dick.
So what hindu guys can do ? I say nothing. If hindu guys tell them not do go to musalman guys, they will either start to have certain urge for musalman men and would eventually end up with them or she would fuck a musalman guy to resist the patriarchal hindu male and if we support or encourage them to go to musalman guys then after tasting the musalmani loda she would prefer that. Since I like to see this more (hindu girls taking muslim supada in the chut) I prefer the latter.