An Erotic tale of a hindu girl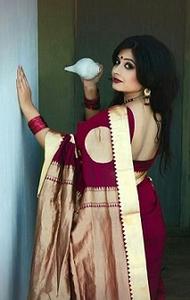 A 21 years old sexy faithful hindu girl Anishka plucked flowers from the nearby marsh and stored them in the small basket for the temple, she did this every other day.
A local 27 years old muslim guy Ayaz was always there to see the divine beauty, she looked like an Apsara. This was going on for a month Ayaz quietly saw her beauty as she plucked flowers.
One day it rained heavily Ayaz stood there waiting for her as he was loosing hope that she would not come today, he was completely wet his wet underwear stuck tightly with his cock. His thin white t-shirt held his skin firmly as his hard muscular body was visible from outside.
It was late than usual, Ayaz was thinking about turning back and go home. The heavy rain had stopped, it was just a light drizzle after the rain not good enough to hide your tears. Then suddenly from the mist the girl appeared.
Like always she saw Ayaz there waiting for her quietly. Anishka was in a saree today, small rain drops were visible on her fair skin.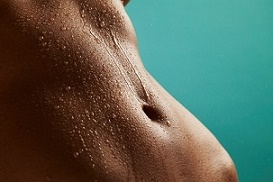 Ayaz saw her sexy belly and her back visible from outside the saree. Then something happened Ayaz felt warm inside his wet underwear. Oo His cock was getting real hard inside his pants. His strong 8.5 inch circumcised cock lifted his heavy wet underwear and a huge bulge was visible from outside his pants. It was too much for his underwear to accommodate such a big hardened cock.
Rain started falling from the sky again, it felt as if it had stopped only to give her the passage to him.
Today Ayaz moved closer to her it was the closest they ever were. Anishka felt anxious as he held her hand and then took her in his arms, the basket of flowers dropped from her hands down on the wet grass.
Ayaz- what are you thinking (kya soch rahi ho)
Anishka's first words- I didn't think you would come here today because of the rain but you were here as always, before me.
Ayaz kissed her lips then her neck and sucked all the rain drops from the neck down to her cleavage as her pallu dropped from her shoulder.

He loosened his pants in the process and took out his giant cock, it was the hardest one could ever see.
He was kissing her in ecstasy his hard exposed cock brushed against her body it was enough to catch her attention she moved her hands below and found his big cock.
She grabbed his hard cock in her hands and saw into his eyes in disbelief, umm she was thinking its so big and so rock hard.
Ayaz held her head with his big hands and moved it down as she kneeled down. Her beautiful face was in front of his long and thick hardened cock with big mushroom shaped circumcised cock head.
Anishka knew what Ayaz wanted, she wispered loud enough and ayaz heard it. "umm kitna bada hai" to which he replied ab tum tumne ek muslim se pyar kiya hai to bada he milega.
With a sign she kissed his thick dick head then she moved her tongue from his balls till the tip of his dick where she rolled her tongue over his cock head and teased him. She grabbed his cock with both her hands and moved it inside her mouth and sucked it. The cock which he used to jack off every day thinking about her was now in her hands.
Soon he undressed her she was completely naked without a single thread on her sexy fair body. The only thing that was on her body was a mala(necklace) on her neck.
The entire place was so lonely but now warmed with their presence. He laid her down on grass and opened her legs just enough. He moved his warm hard cock closer and closer to her tight pussy. His cock was now just a few centimeters away from her pussy lips and she could feel the warmth oozing out from his warm cock head.
As he slowly inserted his thick cock head into her pussy her breath stuck in her throat for a second or two and then she inhaled and exhaled so loud that even Ayaz could hear her breathe. It was clear that her pussy had never handled such a big cock so he didn't push the entire cock inside her until her pussy was wet. After the fluids came into play then he pushed the entire length of his cock inside her pussy, he completely devoured her. Anishka moaned loudly she was not completely in control of her actions she hugged Ayaz tightly as he was fucking her with every inch of his dick inside her pussy and her soft boobs were crushing against his hard chest.
Soon all his load came rushing out of his dick with great force and it seeded her womb. Anishka laid there in the arms of Ayaz thinking about the thrilling experience and how she was able to take such a big cock in her sweet tight pussy, it was just the beginning.
– Ayaz Anishka Himachal