Basheer al Hussaini an Arab Musalman general had conquered many territories across the Indus river. Once from the nearby kingdom princess Kanishka went to see her friends who lived in the territory controlled by Basheer Al Hussaini. She was accompanied by many soldiers and was traveling in a palanquin.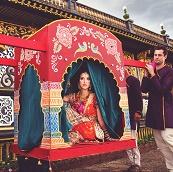 Basheer's soldiers stopped them, questioning the purpose of their visit. The soldiers suspected sedition and called the General to take matters into his own hands since it involved a noble princess of another territory. The word got to him and soon Basheer arrived on the horse back. He wanted to speak to the princess himself. The princess came out of the palanquin as the musalman general saw her for the first time. Such vivid exposure of the sexy body, her belly and cleavage caught the eye of the potent Arab beast who lusted for Hindu princess and queens of noble birth.
Basheer interrogated her and she had a reply for every question of his. She sensed the lust in his eyes  which every now and then turned towards her semi-exposed body parts. She never met an Arab before she though if she knew this in advance she would have dressed differently covering vital organs form the Arabian eyes.
After some time Basheer lets her go as she though it is finally over but the arab musalman had other ideas in his mind.  After a week Basheer along with his close companions went to  Kanishka's father's kingdom. He had a meeting with her father in which he asked the king to marry his daughter to him. Hearing this Kanishka's father got very angry and said this is not possible. The Arab musalman general told him about the consequences of refusing his offer. He put a proposal in front of the King "marry off your daughter to me or be ready for a war".
The king chose not to bow down to his proposal. As Basheer stepped out of the room to leave the palace he saw Kanishka who was eavesdropping on the conversation, she was smiling away with an intent to make fun of the Arab general. Basheer Al Hussaini knew she is naively making fun of him as she had no idea about the might of the Arab musalman and whats coming next.
Two days later Basheer mounts an attack on Kanishka's father's kingdom and the King soon realizes that he took him lightly. King's only son Purushottam who was leading  a unit was caught. The word soon reached the king that his only son the only heir to the throne has fallen into the hands of the enemy and is now at their mercy.
The cleaver Arab musalman Basheer Al Hussaini orders a ceasefire and calls for a meeting with the enemy king. He told his soldiers to relax and have fun with the concubines.
The news reached the king who wanted to save his son so he went to Basheer with negotiations in his mind. He agreed to the proposal of marrying his daughter to Basheer. Basheer Al Hussaini was so happy to hear this that he showed mercy and freed his son.
But soon Basheer got the news that the King lied to him and how he doesn't intend to marry his daughter. Hearing this the Arab musalman got very angry. His close aide said to him "Basheer the king doesn't honor his word what should we do now".
Basheer Al Hussaini angrily says "Gather the army and tomorrow at the stroke of dawn mount a full scale offensive, take every h!ndu woman you find inside the Palace not as your wife but as a whore, leave the princess for me".
The naive King didn't know he had called the wrath of the arab musalman upon himself. The king was a spoilt brat since the childhood who just happened to be born in the right family and he had also developed drinking addiction.
Two days later Basheer's army was at the door step of the King's palace. Everyone inside the palace had no idea as they though they were winning the war as told by the king himself.
Kanishka at that time was in her royal pool completely unaware.
Basheer with his best warriors barged inside the palace and took the king as a slave. He found Kanishka bathing with her servants in the royal poo, that very sight turned his dick mighty hard. On seeing him Kanisha's servants ran away in fear. Kanishka was totally astonished. She shouted guards but no one came as Basheer smiled at her. He jumped inside the pool and caught her. She kept telling herself this can't be true its just a dream but when he pressed her boobs and touched her pussy only then she came to realize that this is reality.
Basheer started fondling her body. She gathered her thoughts and yelled where is my father.
Basheer: He is a slave now, your stupid father has been defeated and overthrown. Do you also want to be a slave ? I can take you as my wife if you obey.
The Arab musalman started sucking Kanishka's hindu body, he moved his muslim hands all over her. He lifts her and moves out of the pool, then lays her down on the wet floor. He removes his armor and all his clothes. His big dick was extremely hard. Kanishka got a glimpse of the circumcised arab muslim cock for the first time in her life. She never saw a dick like that before, no doubt the Arabs had much bigger dicks.
He was all over her kissing, sucking, pressing and fingering. Soon he shoved his big muslim cock inside her pussy as she screamed and started resisting. He was fucking her really rough. After a few minutes all the resistance melted away as her tight pussy got really wet. The lustful arab general kept fucking her as she begins to moan. He was dominating both her body and soul. The rod like musalman dick with big supada head was rubbing inside the soft walls of her pussy she was feeling every inch of it. Since he saw Kanishka he never had sex after that to keep himself motivated to get her.  After some time he released all his cum load inside her pussy which had accumulated  since several weeks and with it all his anger and wrath calmed down. Basheer Al Hussaini the son of Arab soil the mighty musalman bull was not done yet his big dick got hard again in no time and as he begins to have sex with her again but this time lovingly.
Kanishka was now his and she let the arab musalman him use her body anyway he pleased.