Rishika gets fucked by Siraj Ullah
Rishika was a well educated 24 years old girl from a upper class hindu family. She studied Journalism and Mass Communication and after that got a job as a reporter and journalist.
She started working for a news agency that was fairly new and it was striving to become famous among the people but for that it had to do something daring instead for usual crap news which hundreds of channels show everyday, it had to do something which would get them instant public attention and approval.
The agency chose this pretty reporter and journo Rishika for this task. She had to interview a valiant local leader and politician Siraj Ullah. Siraj Ullah lived in Azad Kashmir or POK. He was feared by his enemies and respected by the locals as a  leader. He was both fierce and lustful.
Before giving Rishika this task the news agency used its back channel contacts to secretly communicate with  Siraj Ullah. First he refused to give any interview but then the news agency didn't want to loose this opportunity so they offered him money. Finally he agreed but laid down two conditions. Number 1, The interviewer must be a female and Number 2, The interviewer can be accompanied by maximum one person but while the interview is on the interviewer should be alone, no crew allowed to which they agreed.
At last the day came, Rishika was told to be professional and polite. She wore a saree that day as a symbol of different culture.
She was now close to Siraj's house, there was security all around. All the men were ogling at Rishika's sexy body her navel and back were visible.
She steps inside the house, there stood two close associates of Siraj Ullah, Masood and Furkan. Both of them were gazing at her she heard them saying,
Furkan: "kya chikna maal hai pakka hindu hai "
Masood: "kya jism dikha rahi hai khada karne aayi hai kya"
Furkan: "Chudne ka man kar raha hai tabhi to dikha rahi hai"
Rishika remained calm and silent.
Then they accompanied her inside the room where Siraj Ullah was ready for this occasion.
She saw Siraj he was a 40 year old man with an unshaven face and 2 inch beard.
Rishika was professional while Siraj was completely opposite first he looked at her glossy body from the top till the bottom then sat down for the interview.
One of the questions she asked him was "aap Karachi se hai aur pok jaisi kam facility wali jagha pe kyu rehte hai"
To which Siraj Ullah gave a stunning reply, Tum waha kyu rehti ho asli mard to yaha hai tumhari pyas bujhane k liye, kaise guzara kar leti ho namardo k saath, tabhi itni bhuki lag rahi ho.
Rishika was baffled but she remained calm and moved to the next question, she knew that the video footage can be edited later.
In between for a second or two Siraj Ullah touched his dick from outside twice, it was getting difficult for him to keep his hardened cock inside his pants.
After the interview was over Rishika was looking relieved thinking that finally she would go back. She thanked him and as she turned back to leave her low back saree exposed her sexy back Siraj Ullah gazed at her exposed back and his cock was harder than ever inside his pants.

Siraj Ullah: Dont be in such a hurry formal conversation is over now its time for informal talks.
Rishika had to turn back.
Siraj: Hamare yaha aayi ho bina khilaye pilaye aur chusaye bina aise he jane nahi denge.
Rishika: Kya matlab.
Siraj: Ghar par bhi aise he kapde pehanti ho apne ghar walo k samne  ?
Rishika: Ha kabhi kabhi kyu kuch problem hai in kapdo mai.
Siraj: Nahi bahot ache hai aur tum par to aur bhi ache lag rahe hai, angrezi mai jisko sexy kehte hai wo lag rahi ho.
No I don't have any problem even if a sexy girl like yourself roams naked.
Pyas lag rahi hai ?
Rishika: Nahi.
Siraj: Tum kon si pyas samajh rahi ho tumhara dimag kahi us taraf to nahi. Tumne itni der interview liya pyas to lagi hogi pani mangwata hu.
Rishika: Silent….
Siraj: Tumne kya lag raha hai ki mai tumko chodna chahata hu.
Rishika: silent…
Siraj: Javab to dena hoga is sawaal ka.
Rishika: pata nahi ab mai ja rahi hu. I have to leave, my boss must be waiting for me.
Siraj (laughing): Boss, wo gandu Verma wo to mere samne hath jodne ko tayar tha is interview k liye agar mai bolta to wo apni bivi bhi chudwa deta par maine socha chod jane du is namard ko.
Tu yaha jitne din bhi ruk wo verma kuch nahi bolega aur salary bhi puri dega.
Rishika was listening to all his dirty talks while keeping herself calm, she was a girl who kept her career above everything to go higher in life,  she wanted to complete this task and do her job.
Siraj Ullah: Its time for lunch.
So what should I order do you eat meat ?
Rishika: no I am a vegetarian.
Siraj (smiling): No problem, koi baat nahi tum daal aur grass khao.
Siraj: I am gonna order beef  for myself do you have any problem if I eat that in front of you because we are going to lunch together.
Rishika: No.
Siraj ate around one kg beef alone as Rishika was surprised to see his appetite who ate moderately to maintain her shape and figure.
Siraj: Thoda rest kar lo uske baad chali jana aao mai tumko tumhra rest room dikha du.
Rishika: nahi uski koi jarurat nahi.
Arey aise kaise sharmao mat, aise he nahi jane dunga thodi der rest kar lo fir chali jana.
Siraj took her into the rest room and then left.
Then after few minutes he entered the room again. He saw Rishika resting on the bed.

Seeing her sexy back his cock was now unable to resist. He took out his mighty cock.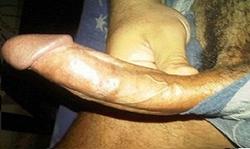 Fearless Siraj Ullah full for lust moved closer with his cock rock hard. He then touched and gently moved his cock head on Rishika's soft and tender skin feeling her sexy back with his cock.
Suddenly she turned and what the bloody hell she was shocked to see him. She saw his big hard cock and it was certainly the biggest she ever saw in real life. She didn't know how to react she was stunned.
In panic she started to leave, Siraj held her soft hand and caught her in his arms.
Rishika: Let me go now its enough.
Siraj: Pehle jism dikha kar lund khada karo asli mardo ka fir nakhre dikhao. Ye sab tumhare yaha k namardo k saath chalega yaha par aisa nahi chalta. Tujhe bina taste kare to jane nahi dunga.
Lagta hai teri chut ko abhi pata nahi asli lund kya hota hai, Kabhi chudi ho kisi asli musalman se ?
Nahi na pata tha mujhe.
Rishika: Please mujhe maaf kar do aage se aise kapde nahi pehanungi.
Siraj: Aise kapde to har hendu ladki ko pehan ne chaheye mai to chahata hu ki tum aise he kapde pehano taki hum maza loot sake.
Siraj: Acha ek baat bata to shadi bhi vegetarian admi se karegi ?
Rishika: ha.
Siraj: To ek baar mere jaise gosht khane wale musalman k lund ka swad chakh kar k dekh fir decide karna.
Siraj ne Rishika ko apni bahon mai kas kar jakad liya aur uske lips aur gale par ko chus kar kiss karne laga.
Fir Siraj ne usko ko ulta leta diya aur uski peeth aur kamar ko chus kar kehne laga sali aaj kal blouse k bahar se bra dikhane ka fashion chala hai kya .
Siraj ne uske blouse k hook ek ek karne khole fir bola laga kya mast lag rahi hai, blouse pahan ne ki kya jarurat hai saree k saath bra kafi hai.
Fir usne Rishika ki saree khol kar usko pura nanga kar k uske jism se khelne laga.
Apna tight lund use uski moti gand k beech mai fasa kar ragadne laga. Siraj Ullah piche se uske upar chipak gaya aur uski chut mai piche se lund daal kar jhatke marne laga. Inta big aur tight lund Rishika ne pehle apni chut mai kabhi mehsoos nahi kiya tha. Fir apna lund nikal kar bola ye to sirf trailer tha picture abhi suru hogi.
Wo apna lamba lund uske hoto k paas le gaya aur chusne ko kaha. Rishika majboor ho gyi uska lund chusne ko.
While sucking his mighty dick the strong aroma from his cock was making her mad.
After that he spread her legs open and started rubbing his thick cock head on her tight pussy.
Chut dekh kar to lag raha hai abhi tak kisi ne dhang se tujhe choda nahi.
Lund ka topa chut mai mehsoos kar k Rishika apne aap ko control nahi kar pa rahi thi. ahhhh..
Siraj: Ek baar musalman k lund k tope ki ragad hendu ladki ki chut mai lag jaye to wo kabhi nahi bhulti.
Then he jerked his cock inside her warm pussy. He made her pussy feel every inch of his cock. Soon she started moaning while he was ramming her pussy and sucking her lips.
Sali aa gayi aukat pe jab asli mard ka lund andar gaya. With enormous sexual stamina that he had he kept fucking her taking small breaks in between during sessions till the next morning. He satisfied all his lust and hidden desires using her sexy body.
Agle din usne apne do khas admi Furkan aur Masood ko bulaya aur Rishika k room mai bhej diya jaha wo nangi leti thi.
Siraj Ullah: Tum dono bhi maza luto, bahot garam hai sali maine aur bhi garam kar diya hai.
Achi tarah se istemal karna ragad ragad kar kal isko vapas bhejna hai.
Masood aur Furkan k lund fudakne lage. Rishika ki chut garam thi Siraj k lund ka swad chakne k baad uski chut ab deewani ho gyi thi musalmano k lode k liye.
Masood: Chal apni saree pehan le.
Rishika kyu nangi achi nahi lag rahi.
Masood: Mai khula samaan nahi khata, hamesha packed khata hu. Chal saree pehan kar pack ho ja fir teri saree utar kar tere ko khaunga.
Rishika saree pehan kar tayar ho gyi, Masood aur Furkan ne uski saree khol kar usko dubara nanga kar diya.
Masood: hendu ladkiya to pehle bhi chodi hai par saree pehli baar kholi.
Then they mounted her on their cocks like a slut. They fucked her with their big circumcised cocks Rishika enjoyed every inch of their cocks and now started fancying them.
They blowed off their load deep inside her pussy. Agle din tak ruk ruk kar Siraj Ullah, Furkan, aur Masood usko chodte rahe.
Next day she left but now Rishika was changed she became a cock hungry girl.