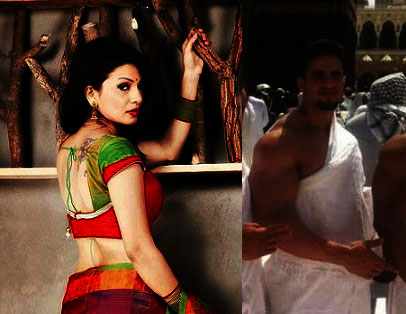 I live in Saudi Arabia with my husband who works at a company there. My husband's friend Faizan who happens to be a Muslim was on the pilgrimage to Mecca.
I knew Faizan quite well as he used to visit our home every now and then to meet my husband where we were in India.
When my hubby came to know about it he invited Faizan to spend a few days at your residence to which he happily agreed.
My hubby Hitesh told me that he would be here in 2 days. Hitesh was a very open minded and caring guy.
Faizan reached our residence two days later in the evening. He greeted me, he used to called me Pragya bhabhi. I was a 28 year old woman then.
Soon my hubby arrived and they both were happy to meet each other after an year.
Few hours later they headed to the swimming pool. We have quite a luxurious house in Saudi Arabia. It was on rent and was also expensive. I was against it I told my hubby we can live in a cheaper house but he said he can easily pay for it.
Now both Faizan and Hitesh were in the swimming pool. They wore only an underwear. I prepared coffee for them and went downstairs towards the pool.
Faizan came out of the water to take the coffee. He was in a tight underwear I could see the outline of his dick. It just happened in a fraction of a second I couldn't stop myself from thinking that it looks big then I controlled my mind and thought to myself what the hell am I thinking.
My Menstrual periods had just finished yesterday and during and after the periods for a few days my sex drive is at the peak. Its not the same for each and every women but in my case this was the thing which usually happened.
Me and my hubby had sex that night, he did what little he could do and then fell asleep saying that he has to go to work tomorrow. He knew my sexual cravings are extreme and I don't get satisfied easily.
Next morning he left for work as usual. He was leaving me with his friend all alone in the house. I thought either he had too much trust in me and his friend or he didn't have a problem if I had sex with him.
Later that day Faizan was in the swimming pool. I went there to call him for lunch. He came out of the pool and his dick caught my eye again. There was a big bulge on his tight and wet underwear.
When I raised my eyes up I realized he had seen me looking at it, I felt so embarrassed,  couldn't see him in the eye. Faizen was well built and beefy. His head was shaved as he had just arrived from the hajj pilgrimage but he was looking hot and glossy in that look.
He started walking too close to me. His musky smell was enough to drive me crazy. He said he doesn't feel like eating right now.
No, its time you should at least have a little to which Faizan replied I will eat if you feed me with your hands.
Are you trying to flirt with me.
Faizan holds her hands and says yes I am.
Pragya was astonished by his bold approach.
So you are flirting which your best friend's wife behind the back, what a friend you are.
Faizan replies – And you are checking out your husband's friend behind your hubby's back
Really I never saw you with such an intent.
I know with what intent you look down there but you don't need to feel embarrassed says Faizan.
Pragya didn't say anything she went towards the kitchen and Faizan followed her.
He grabs Pragya as she tries to gently resist, there was no sign of distress in her voice when she says "leave me Faizan please leave me". It seemed as if she wanted him to fuck her today but at the same time she does not want to act like a complete slut by giving in so easily.
Faizan knew she doesn't really want to stop him, he knew she is in heat. He kisses her and slips his tongue inside her mouth as they both for the very first time get a taste of each other.
In the heat of passion he starts removing her clothes. Faizan unhooks her bra and digs his face between her boobs. He sucks her nipples and bites them gently. Pragya was going mad. Faizan touches her pussy lips as she moans in sinful delight.
He takes her hand and places it inside his underwear where his cock who knows how big remained hidden. Pragya couldn't find the courage to grab that thing. Faizen then bites her lips and presses her boobs firmly enough to make her react. She grabs his dick as firmly as he presses her boobs, it was a big one and it was so hard she could feel the swollen veins on his dick filled with blood keeping his dick extra hard.
The touch of Pragya's soft  and soothing palm was such a relief for Faizan's burning hot dick. Faizan takes her to the bedroom. He lays down on the bed and makes Pragya suck his dick. She looked so good with that big dick in front of her pretty face that it felt as if she had married the wrong man. She licked his cock and polished his balls with her tongue. From his balls to the tip of his dick she sucked and licked every part of it. Pragya never enjoyed sucking her husband's limp dick but Faizan's dick was a different story. She loved how hard his dick remained for her.
She had been sucking on to his dong for a quite long time with juices dripping down from her lips and Faizan didn't ejaculate which made her think that her pussy is gonna get a long lasting pounding today.
Faizan then pulls his wet cock out of her mouth and his next target was her pussy. He says while fingering her pussy – your pussy is tight, unlike a woman's pussy.
Pragya stayed a virgin till her marriage and the sad part was that she didn't get the real thing till now a real manhood was something which Faizan was about to give her.
The first touch of the thick cock head of Faizan's muslim dick made her moan so hard as if he had pushed full length of his dick inside her.
She says – ahhh! Faizan its too big for me.
Faizan – nothing is too big, you will take all of it.
Pragya's pussy was wet from the inside, Faizan puts his weight on her, he hugs her and kisses her lips while pushing his dick deeper and deeper. Pragya was on cloud 9. He pumps all the air out of her pussy and now every nook and corner of her vagina was filled with his big dick. Faizan moves his dick backwards and then pumps her pussy again and again.
He flexes his dick inside her and grinds her pussy.  Pragya was going crazy.
Faizan says- Your hubby's dick doesn't full your pussy like this na.. his soft dick doesn't last long does it.
Pragya in a low and moaning voice says how do you know that.
When Hitesh and I were in college I was his best friend and he told me about his problem. He was too shy to go to the doctor with this problem of his. I went with him but even with the medication his problem did not go away completely.
Pragya – So you are cheating on your friend.
Faizan ( pushing and pulling his dick in and out of her) – Friend's wife is too hungry I am just helping someone in need.
Pragya – You are such a ……… what do i say now… harami..
Faizan – Why do you think Hitesh left me with you all alone. He wouldn't mind if I satisfy your urges, you know. I know him very well.
Pragya – ummm! may be you are right he doesn't feel good about not being able to satisfy my sexual urges.
Faizan thrusts his dick inside her making her moan louder.
Enjoying the muslim dick inside your pussy huh, says Faizan.
Pragya- umm what did you say !
You are loving the muslim cock don't you, feels different doesn't it.
Pragya yes fuck me, plough my pussy I love your muslim cock, make me your slut, my hubby would serve as a cuckold.
Faizan keeps pounding her cunt for some time, then he starts to fuck her in doggy style, he grabs her hair and pounds her even harder from behind.
Pragya's mind was filled with the picture of that big circumcised muslim cock stretching her pussy to new limits.
In between Faizan grinds and flexes his dick inside her while verbally saying things to her and making her realize that she is enjoying this forbidden muslim cock in her hindu pussy. This though was driving her crazy in the bed.
Faizan then again puts her back to missionary position and starts to fuck her like never before. Her pussy had now got fully used to his dick, now there was no pain only pleasure for Pragya.
The room was filled with the sound of rhythmic beats as he was pounding her vagina. There was a thing about this haji he could get so rough and at the same time feel so graceful. He knew how to handle a woman in the bed. It almost felt as if a mohammedan from the historical times was filling the pussy with his potent seed. The Hindu woman while getting pounded continuously had tightly hugged the Haji as jodha hugged akbar, as Bhagmati hugged Muhammad Quli Qutub Shah, as Dewal Devi hugged Khizr Khan and many more. The thing about the mohammedans was that they were strong , they were virile, they had limitless appetite and they knew how to love a woman and make her theirs who'd then breed for them with full dedication and love. They passed their superior genes and their traits to their sons who then passed it on to theirs which continued for thousands of years.
The throbbing of the raw flesh and the moans of the Hindu woman filled the room as the descendant of the mohammedans The Haji ploughed her pussy. The heavy sound of her breath, the gasping for air in between were screams of approval that yes she loves the circumcised muslim cock insider her.
Pragya was in the in the seventh heaven, she had never had such a long lasting sexual experience. She was impressed with the way the haji was going about fucking her. She knew this is a kind of man who deserves to pass on his seed, this is the man with whom she should make babies. This is natural selection.
Pragya was now exhausted and she was lost in thoughts about his cock suddenly with a final thrust Faizan fills her pussy up with his potent cum which is more than enough to impregnate her.