TOI journalist highlights new hottie from paki team Imad Wasim
Hi again!
This website has given numerous examples of Hindu women drooling over Muslim guys, including those from Pakistan our neighbouring nation.
Cricket and films are the two main sectors where Pakistani males (be it a Fawad Khan or Shahid Afridi) seem visible to Indian Hindu ladies. Right from Sonali Bendre-Shoaib Akhtar (http://interfaithxxx.com/shoaib-akhtar-sonali-bandre-and-pak-connection/) and Yami Gautam-Shahid Afridi (http://interfaithxxx.com/yami-gautam-fantasizes-about-shahid-afridis-paki-lulla/) to Rita Luthra- Zaheer Abbas (http://interfaithxxx.com/indian-hindu-girl-rita-luthra-married-pakistani-zaheer-abbas/)
Leena Kapoor Asad Rauf (http://interfaithxxx.com/leena-kapoor),  such connections are many.
Now, one TOI journalist Sutapa Singh has written about a new Paki cricketer named Imad Wasim. Check her report: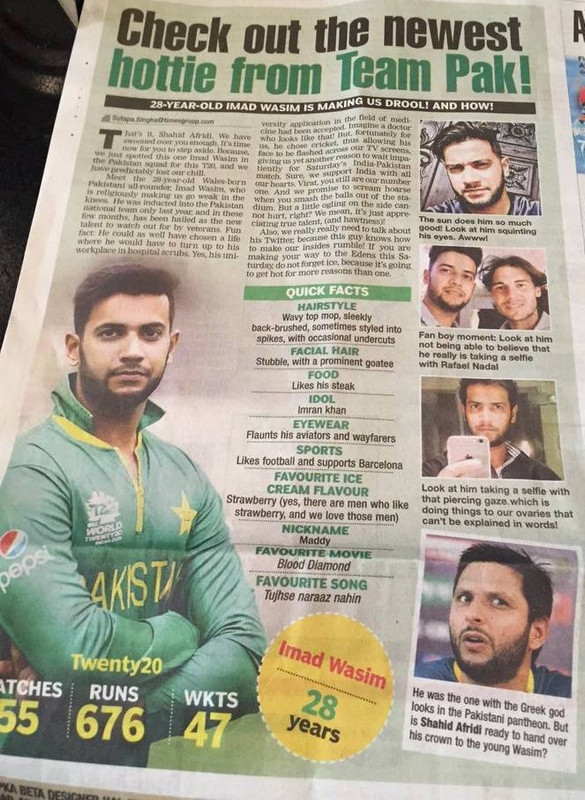 http://i.imgur.com/ocobiXw.jpg
She describes him as "true hawtness" and as says he makes her "insides rumble".
She further states that his photo (selfie) is "doing things to our ovaries which can't be explained in words".
Ovaries, right? Does it mean she feels horny imagining about Wasim? I say this as ovaries are associated with reproduction. She means the paki musalman is making h!ndu girls horny doing things to our (h!ndu girls) ovaries.
In the report, she also seems to state that Shahid Afridi is a Greek God.
Now, I did some research about who this Sutapa Singh, obviously horny about this paki Muslim cricket player.